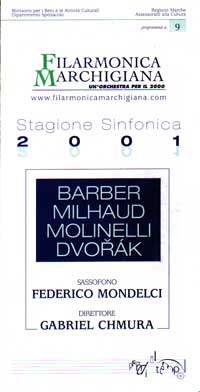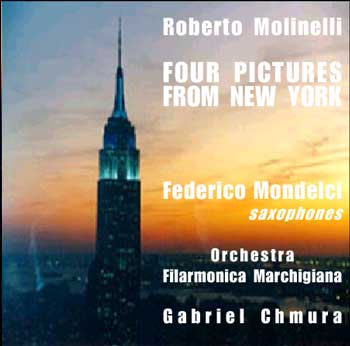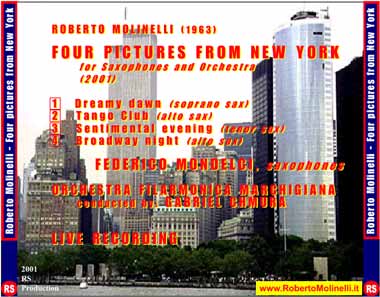 Four pictures from New York, four images of the most famous and most universal metropolis of the world.
I wrote this concerto for saxophone and orchestra inspired by the Big Apple, as it seems to the eyes of a European in love with America and its music and culture.
In Dreamy dawn, I described the sunrise in a radiant dawn, limpid and serene but modern at the same time: the day breaks with a background of the skyscrapers of Manhattan in an enchanting spectacle.
Tango Club is a piece dedicated to the grand Master of Tango Astor Piazzolla, New Yorker by adoption, written in the style of Argentinian Tango, in which the rhythm is possibly more important and representative of the recent secular past, and imagined in one of the many metropolitan clubs where they play and dance to Latin-American Music.
Sentimental evening, a jazz ballad, is surely particular for the presence of a jazz trio to accompany the saxophone soloist: in fact it is composed of jazz players (piano, double-bass, drums) with accompaniment of strings.
The last movement, Broadway night, represents the exciting night life that enlivens the scintillating streets of Manhattan, the giant and multicolored luminous flashing lights that make Time Square a spectacle of lights and colors, and where outside the famous Broadway Theatres you live and breathe a musical atmosphere.
FEDERICO MONDELCI plays my brand new Concerto for Sax
FOUR PICTURES FROM NEW YORK
ROBERTO MOLINELLI
FOUR PICTURES FROM NEW YORK
For Saxophone and Symphony Orchestra
(2001)

I. Dreamy dawn
(Soprano sax and orchestra)
II. Tango Club
(Alto sax and orchestra)
III. Sentimental evening
(Tenor sax and jazz trio, with optional strings)
IV. Broadway night
(Alto sax and orchestra)
verione italiana
Orchestra: 2 fl. (II=picc.), 2 ob. (II=eng.horn), 2 clar., 2 bass.., 4 horns, 2 trpt. (I=little trpt.), 3 tromb., tuba, timp., 2 perc., piano (jazz pianist), harp, strings, (one doublebassist must be a jazz player).

[home]